Bruce Klein
Attorney at Law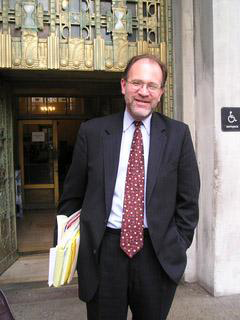 Attorney Bruce Klein began his legal career as an Assistant District Attorney in the Bronx District Attorney's office in 1981. He gained valuable trial experience, as he tried numerous serious felony matters while assigned to the Major Offense Bureau. In 1988, he and two partners began their own practice, and soon after was representing the Officers and Detectives of the Housing Police of the City of New York in regard to all disciplinary matters as well as representing Officers who were involved in firearm discharges on or off duty.
During his years in private practice, he has not only successfully handled hundreds of cases involving those charged with criminal conduct but has also represented clients in civil matters involving police misconduct.
He has been representing those individuals who need someone in their corner to level the playing field. With his extensive experience protecting the interest of his clients, he has the understanding needed to help them plan all phases of their defense. Mr. Klein has worked with numerous experts in varied disciplines, including forensic psychiatrists, forensic accountants, medical experts including surgeons and medical examiners, and DNA experts.
Mr. Klein has handled cases in New York State court, Federal Courts in both New York and New Jersey, and New Jersey State court.
Since his graduation from New York Law School in 1981, Mr. Klein has engaged in a practice focusing on all phases of criminal defense. He has successfully aided those charged with the most serious criminal offenses, including homicide, sex offenses, and major narcotics conspiracies. Recently, he has been helping numerous individuals who face the loss of their driving privileges due to charges involving Driving While Intoxicated, or While Ability Impaired. He has also successfully handled administrative hearings at the Department of Motor Vehicles for many clients.
You deserve a fair shot at justice.
Bar Admissions
New York, 1981

New Jersey, 1981

U.S. District Court for the Eastern District of New York

U.S. District Court for the Southern District of New York

U.S District Court for the District of New Jersey
Education
J.D., New York Law School, 1981